My corporate work focuses on improving relationship dynamics, satisfaction and progression for women in the workplace, and I show how an understanding of our evolved predispositions can provide effective strategies for women to excel, and to find the work-life balance that suits them.
I also work with leaders to demonstrate the ways in which women differ on average from men, both in their approach to working relationships, and in their work ambitions and aspirations. We can then look at ways leaders can help female team members optimise their productivity, make the most of their assets, and achieve satisfaction and progression at work.
Corporate Services
Keynote Speaking
Presentations for Women's Networks and Focus Groups
Maternity Career Support Program (in collaboration with Vilo Sky)
Bespoke Interventions:

Presentations for teams
Intensive small-group workshops
One-to-one development for leaders and for team members
I'm based in Edinburgh, working with many local clients and I also travel to work with clients across the UK and Europe. In cases where it will benefit your team I work with collaborators who have a range of expertise, skills, and experience to deliver exactly what you need.
To book or discuss presentations or development options please Contact me.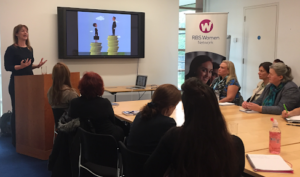 Topics for Workshops and Discussion
All of the following topics can be covered in live presentations and workshops, as well as in online courses and webinars. These subject areas cover issues for women around our approaches to work, competition and cooperation, and working relationships. Several topics cover health, well-being, and work-life balance, and some deal with neuroscience and hormones and the effects of these on our decisions, competition and relationships. Sessions can be tailored in terms of format, venue, duration, audience size, role (e.g. leaders or junior staff) and gender mix. The topics can be combined or adjusted, and I can delve into deeper detail for any of the subjects where you need this. Please let me know if there are further areas you'd like to explore.
Covert Competition: Are women holding each other back?
The Professional and Gender Identity Conflict in Women: How to increase integration and become a better negotiator
Sexual Harassment in the Workplace: Why it happens, who does it, and how to reduce it, avoid it, or handle it.
Embracing Your Inner Female: How to value and capitalise on feminine traits instead of aspiring to the male way.
Working Mothers: Keeping sane, doing the best for our kids, pursuing career success, and finding that work-life balance.
Can Women "Have it All"? Finding the right partnership for the life and career you want, and how to keep desire in the relationship.
Queen Bees & Shrinking Violets: Why women don't always support each other at work, and what to do about it.
The Biology of Beauty & Bullying: Is physical attractiveness important at work?
How to be Happy in Your Own Skin: Making the Most of Your Personality for Work, Health, and Wellbeing.
How to be Happy & Healthy: Understanding the value of our social networks, and how to grow and look after them.
Hormonal Intelligence: How to Achieve the Optimal Hormone Profile for Good Leadership and Productivity.
Hormonal Intelligence: Optimising our Oestrogen Levels for Health, Fertility, Work Success & Wellbeing.
Hormonal Intelligence: How to understand and navigate your personal journey through menopause.
For details of the content, learning outcomes, actions & benefits for any of these topics, please Contact me.