Speaking at Your Conference or Event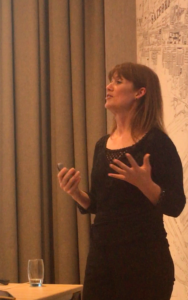 I offer bespoke presentations, including after-dinner talks, lectures, multimedia presentations, workshops, and conference talks on a variety of topics in the area of human behaviour and relationships. I work with partners from a wide range of industries and professions, including medical professionals, relationship counsellors, teachers, and more.
My recent platforms include conferences/events run by IQ Analytics, WIBF, Care Fertility, Edinburgh Dental Specialists, The Reproductive Health Group, Relationships Scotland, the Professional Speaking Association, Ragged University, the Spice Club, and Empirical Sex.
To arrange a presentation for your conference or event, please contact me.
Please also see Corporate Speaking.
Popular Keynotes:
* This is by no means an exhaustive list and I'd be delighted to tailor a talk or workshop to the themes of your event. For more detail about the topics below, or to organise a talk on a different subject, please contact me.
How Monkeys Taught Me to Take Risks
Embrace Your Inner Female: How to capitalise on female traits instead of aspiring to the male way
Covert Competition: How Women Can Stop Holding Each Other Back
How to be Happy in Your Own Skin: Making the Most of Your Personality
Menopause: Navigating Your Personal Journey
Surviving Maternity Leave with Your Mental & Emotional Health Intact
Myths of Attraction
The Scent of Attraction
Are We Built for Monogamy?